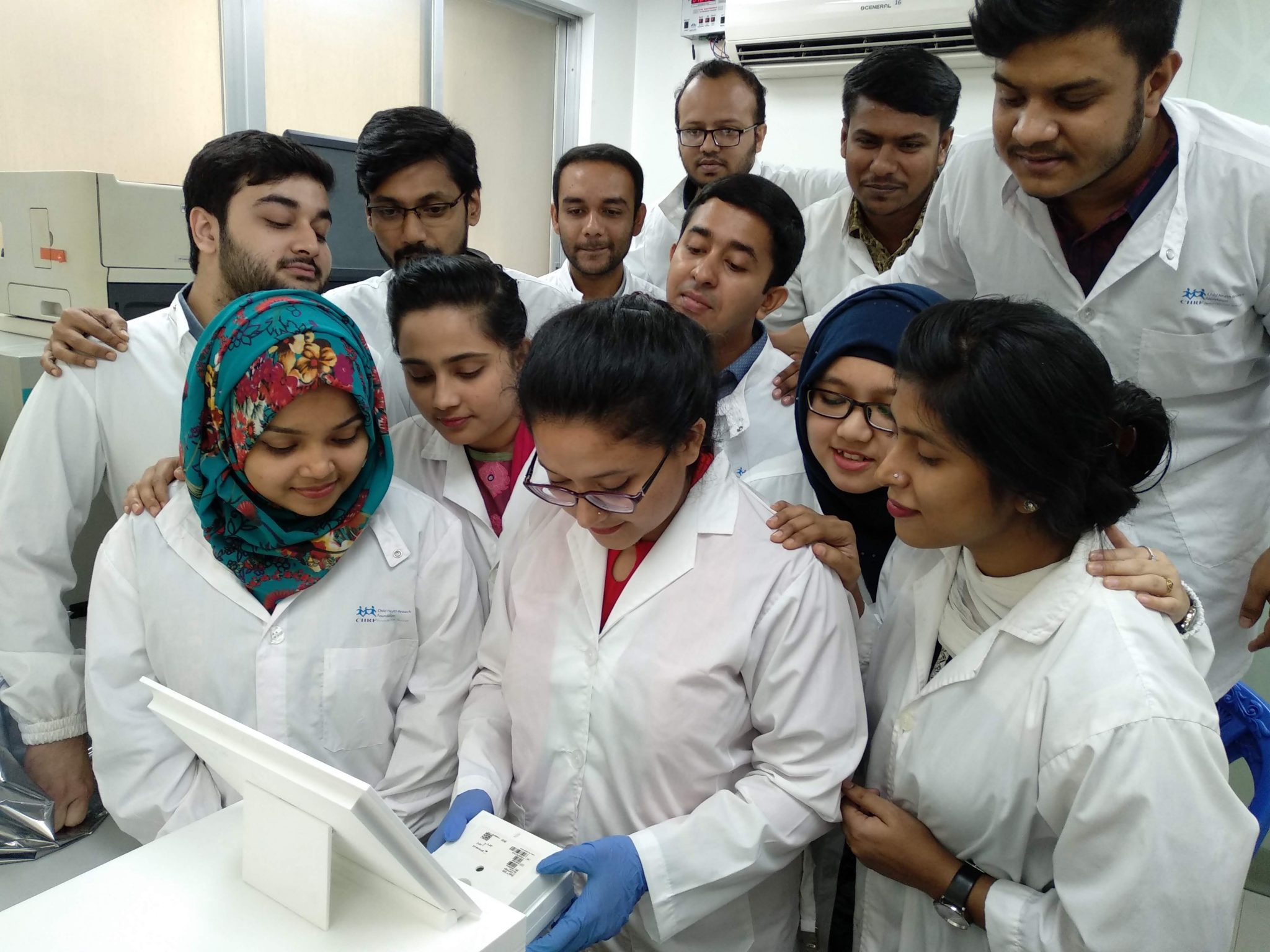 "From the Frontlines to Labs to Boardrooms: Women & Girls at the Center of Global Health & Development Innovation"
For the last 15 years, the Grand Challenges Annual Meeting, arranged by the Bill and Melinda Gates Foundation, has fostered international innovation and collaborations to address the biggest challenges in health and development. In the 2020 meeting, a spotlight was shone on the work done by Dr. Senjuti Saha, the Child Health Research Foundation, and all of Bangladesh.
Dr. Senjuti Saha's talk "Building Local capacity to accelerate the global fight against COVID-19" was aired in the plenary, "From the Frontlines to Labs to Boardrooms: Women & Girls at the Center of Global Health & Development Innovation" that also included Melinda Gates.
Dr. Senjuti Saha highlighted how groups in Bangladesh have been able to rapidly detect, characterize and contribute to the expansion of data-sharing and testing for COVID-19 in Bangladesh. She discussed how CHRF leveraged experience from the previous chikungunya and dengue outbreak, to adapt the laboratory's capacity in light of the pandemic. Dr. Saha went on to describe how work done by women in Bangladesh is inspiring young girls to want to become scientists and researchers.
The plenary explored how for women and girls around the world, COVID-19 is exacerbating existing gender, racial, economic and other social inequities and taking a heavy health and financial toll. The session focused on putting women's and girls' needs at the center of the COVID-19 response and the global health innovation agenda, and elevating more women leaders to ensure we do this successfully.​
The primary goal of the Grand Challenges meeting is to support a global community of problem solvers who work together to set an innovation agenda and do the breakthrough science to deliver on it. Recognizing the pressing global threat of COVID-19, this year's Annual Meeting focused on how to accelerate transformational innovation for global health crises. The meeting consisted of scientific tracks that foster discussion among scientists on particular topics of relevance, high-level plenary sessions that convene scientific and political world leaders to set the tone for these discussions, and a series of side meetings and networking opportunities. Sessions sought to facilitate collaboration among scientists and policymakers to discover, develop, and deploy the solutions needed to curb the reach of the pandemic, mitigate its impact, and prepare for future global health emergencies. Additionally, sessions explored how to harness the energy and learnings from COVID-19 to drive continued progress against a broad range of global health and development goals.