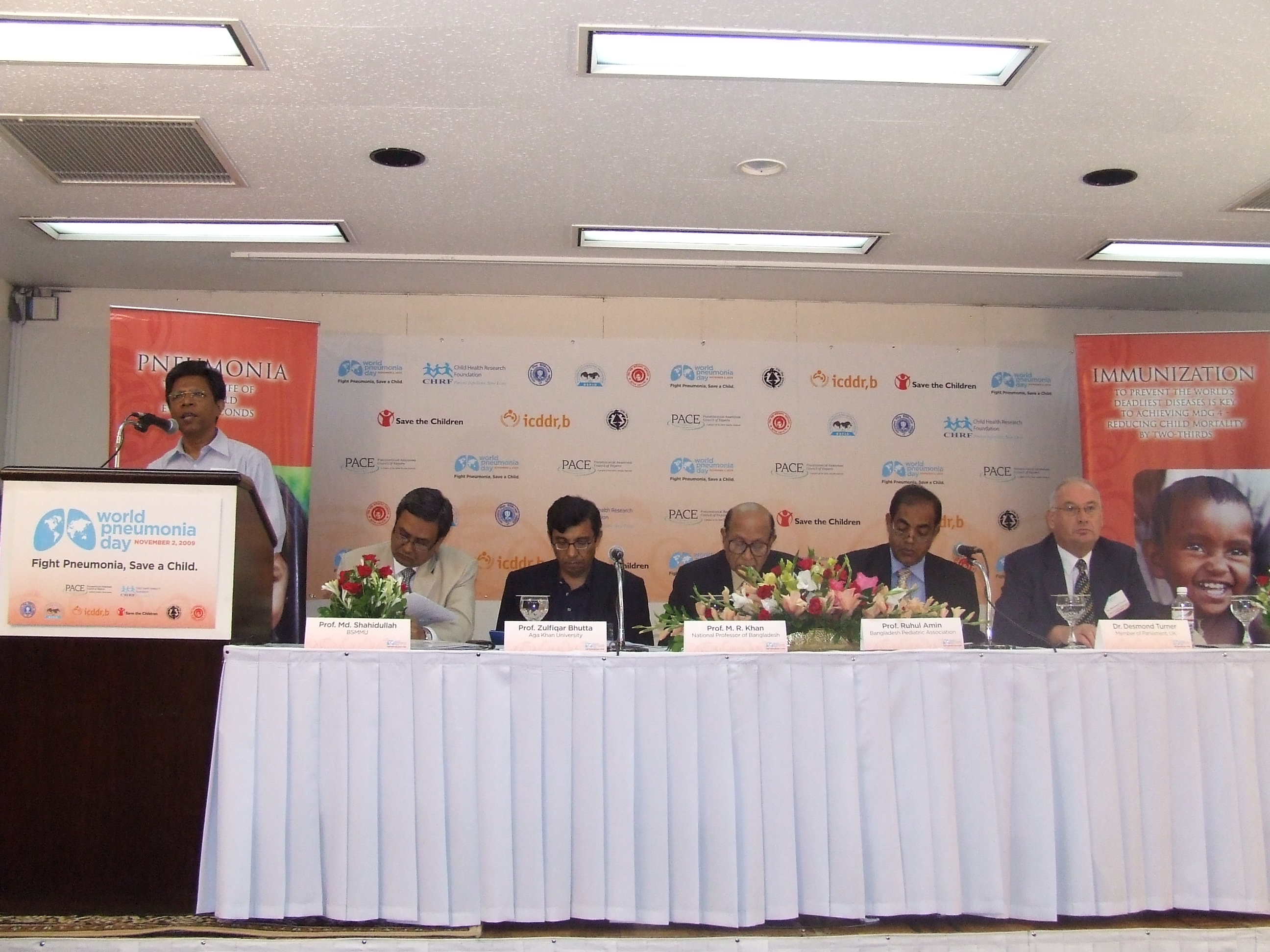 Child Health Research Foundation (CHRF) observed the "World Pneumonia Day 2009" which helped for raising awareness a lot. The consequence was a great news for Bangladesh – the timely introduction of Pneumonia vaccine in the National Expanded Program of Immunization (EPI).
Pneumonia takes the lives of 2 million children each year—more than measles, malaria, and AIDS combined –and accounts for 20% of all deaths of children under five years old worldwide. Bangladesh has the fifth-highest rate of pneumonia in the world, with an estimated 6 million cases, and 50,000 deaths, occurring among children under age 5 annually. While pneumonia affects children and families everywhere, it has the most deadly impact in South Asia and sub-Saharan Africa, where 98% of pneumonia deaths occur.
A coalition of leading Bangladesh health organizations joined together on November 02, 2009 to recognize the first annual World Pneumonia Day and urge the Bangladesh government to continue to take the steps to fight pneumonia, the world's leading killer of young children. Activities took place in Bangladesh were part of a global movement around the world to commemorate the first annual World Pneumonia Day. Nearly 100 leading global health organizations from six continents joined forces to recognize the first-annual World Pneumonia Day and call upon governments worldwide to take steps to fight pneumonia. As part of the historic effort, the WHO and UNICEF released the Global Action Plan for the Prevention and Control of Pneumonia, a six-year plan for the worldwide scale-up of a comprehensive set of interventions to control the disease.
Child health research foundation and Pneumococcal awareness council of experts (sabin vaccine institute) jointly organized the first world pneumonia day (WPD) in bangladesh with the help of Government of Bangladesh and other co-partners save the children, ICDDR,B, Dhaka Shishu Hospital, Shishu Shshthya foundation, Bangladesh Paediatric Association and Bangladesh Society for Pediatric Infectious Disease.
CHRF organized a big rally and international conference at Hotel Shonargaon in Bangladesh.
Pneumonia takes a devastating toll in Bangladesh, despite the fact that it is the most solvable problem in global health. We have the tools to protect and prevent children from catching pneumonia, and to treat those suffering with this illness. Today, we join together to urge out leaders to make these interventions a priority in Bangladesh. Prevention of pneumonia and pneumonia deaths can help bring equity for child health in developing countries. – Dr. Samir Saha
Bangladesh has already taken steps to prevent against Haemophilus influenzae type b (Hib) – one of the two major causes of pneumonia by including Hib vaccines in their national immunization program. In September 09, the Bangladesh Parliament decided to apply for pneumococcal conjugate vaccine funding through GAVI. This gives great hope that Bangladesh will utilize safe effective vaccines to prevent pneumonia.
Professor M. R. Khan, National Professor of Pediatrics in Bangladesh stated,
Our country is in the process of eradicating polio, measles, tetanus and other deadly diseases. Similarly, immunization with pneumococcal vaccine can largely prevent pneumonia and save the children of Bangladesh.
Bangladesh child health advocates have convened a press conference, rally, scientific symposium and policymaker round table in Dhaka November 1-2 to engage the scientific, medical and child advocacy communities in the fight against pneumonia and to urge government leaders to continue progress on prevention.
PACE applauds the Bangladesh Parliament's decision to prioritize pneumonia prevention by applying for pneumococcal conjugate vaccine funding through GAVI - Dr. Zulfiqar Bhutta, Head of the Division of Maternal and Child Health at the Aga Khan University Medical Center in Pakistan and member of the Pneumococcal Awareness Council of Experts (PACE).
The fight against pneumonia can be won- said Dr. Desmond Turner, Member of the British Parliament and Chair of the UK's All-Party Parliamentary Group on Pneumococcal Disease Prevention in the Developing World.
Ensuring Treatment, Achieving Prevention
Studies show that implementing pneumonia prevention and treatment interventions worldwide could save an estimated one million lives each year and significantly reduce the burden of families and communities that must cope with pneumonia-related illnesses and deaths. Pneumonia can be treated effectively with antibiotics that cost less than a dollar, but less than 20% of children with pneumonia receive the antibiotics they need, according to WHO.
Safe and effective vaccines exist to provide protection against the primary causes of pneumonia, Streptococcus pneumoniae (pneumococcal disease) and Haemophilus influenzae type b (Hib). However, use of Hib vaccine has only recently expanded to low-income countries and pneumococcal vaccine is not yet included in national immunization programs in the developing world, where children bear the highest risk for pneumonia and where most pneumonia-related child deaths occur.
As the result of collaborative efforts by WHO, UNICEF, the GAVI Alliance, academia, foundations, industry and donor and developing country governments, low-income countries can now access existing and future pneumococcal vaccines with a small self-financed contribution of as little as US $0.15 per dose. To date, 15 countries have received GAVI Alliance approval for support to introduce pneumococcal conjugate vaccine (PCV).