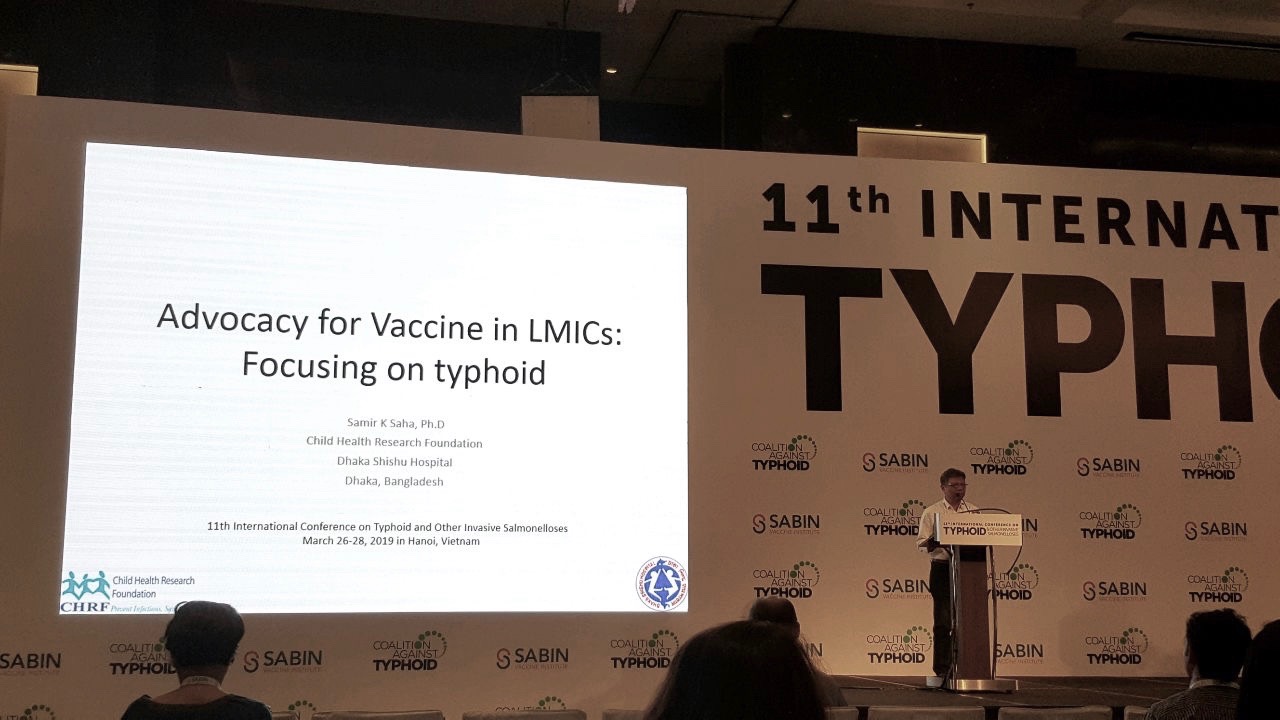 On March 28th ended the 11th International Conference on Typhoid and Other Invasive Salmonelloses. Thanks to the Coalition against Typhoid group for arranging such a wonderful event where enthusiastic researchers from across the globe shared their stories, opinions, and findings and thus pushed the field quite a bit further. It was a big event for us at the CHRF – 7 abstracts were accepted and almost everyone received travel grants from Sabin Vaccine Institute!
With the typhoid conjugate vaccine now prequalified by the WHO and countries and donors facing important decisions regarding its introduction, Dr. Samir Saha was invited to give a talk in the vaccine advocacy session. With his vast experience in the introduction of Hib and pneumococcal conjugate vaccines in Bangladesh, he pointed out how important advocacy is, and that it is imperative for clinicians, policymakers and laboratory personnel to work together. He focused on problems faced by low and middle-income countries and requested that people follow their heart and edit thoughts only after with their brain. He taught us the Do's and Don'ts of advocacy.
Dr. Senjuti Saha, our in-house Scientist, gave two oral presentations on the same day! The whole arena was excited and animated after she revealed the molecular mechanism of azithromycin-resistance in typhoidal Salmonella. It became a noteworthy topic of discussion and found its way to Twitter. All our findings are now available on bioRxiv for scientists around the globe to explore further.
Arif M. Tanmoy presented on a new Bangladesh specific S. Typhi lineage from his paper published in mBio. He was also invited to co-chair the "Genomics" session with Dr. Gordon Dougan. Additionally, he gave a short interview on the use of genomics as a tool for typhoid burden control. Is he famous or is he famous?
Mohammad Saiful Islam Sajib, the youngest researcher of the bunch, gave his first oral presentation in the same "Genomics" session chaired by Tanmoy. His presentation was highly appreciated, as he was the only one in the conference whose talk was solely focused on S. Paratyphi A. This kid's going places…
Three posters were presented by Hafizur Rahman, Shampa Saha, and Arif M. Tanmoy – it is amazing how many keen visits they received. Their throats are still perched.