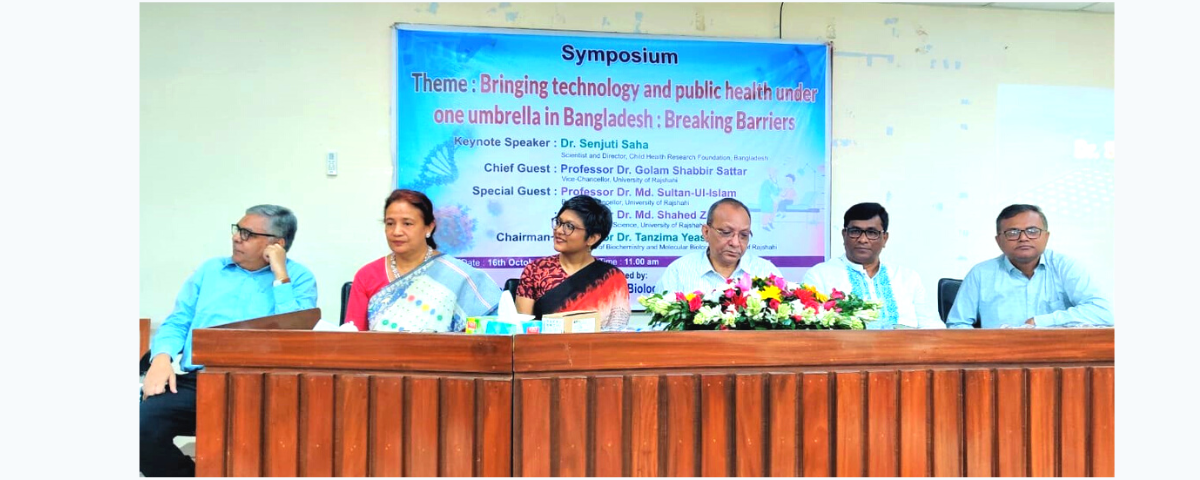 On the morning of 16th October, the CHRF team headed towards the University of Rajshahi to join a Symposium organized by the Department of Biochemistry and Molecular Biology.
CHRF's Director & Scientist, Dr. Senjuti Saha, was cordially invited as the keynote speaker in the symposium titled, 'Bringing technology and public health under one umbrella in Bangladesh: breaking barriers.'
Staying true to the theme, Dr. Saha spoke of the harsh realities and barriers she faced while building CHRF's state-of-the-art genomic facility. This included struggles to find the right collaborators who shared her vision of ensuring that data generated by Bangladesh is owned by Bangladesh, along with lack of timely delivery of reagents and laboratory supplies, which dampens the motivation of young researchers in her team. CHRF's Senior Research Investigator, Mr. Arif Tanmoy, discussed CHRF's work with genomics, including the genomic epidemiology of typhoid and paratyphoid, along with the findings of CHRF's infectious disease observatory. CHRF's Microbiologist and Science Communicator, Miss Nazifa Tabassum, highlighted CHRF's work towards building local capacity in life science research including clinical microbiology, diagnostic biochemistry, molecular biology, and genomics, with its program, 'Building Scientists for Bangladesh'.
The chief guest of the symposium was Vice-Chancellor Professor Golam Shabbir Sattar and the special guest was Pro Vice-chancellor Professor Dr. Md. Sultan-ul Islam. The symposium was chaired by Professor Dr. Tanzima Yeasmin, chairman of Department of Biochemistry and Molecular Biology. Also present in the symposium were senior officials from CHRF including the Senior Research Manager, Dr. Sultana Aflatun Rubana, and Office Executive, Md. Monimul Hasan Khan. The lecture theatre was filled with all the enthusiastic students of the Biochemistry and Molecular Biology department along with faculty members. From all of us at CHRF, we are grateful for the warm welcome and enthusiasm cannot wait to visit Rajshahi again!
Read more here.