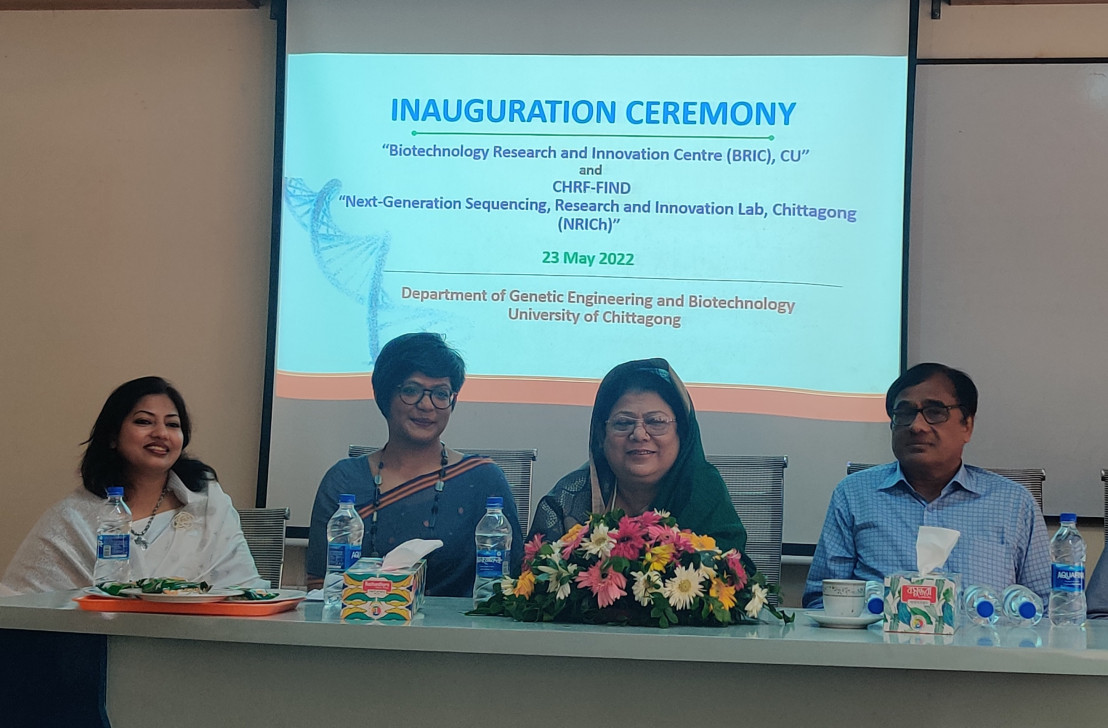 Scientists play critical roles in the progress of society and in ensuring everyone's well-being. This requires investments in infrastructure to not only conduct research but also to train the next generation of scientists. At CHRF, we are constantly working towards, 'building scientists for Bangladesh'.
To ensure that infrastructure is not centralized in Dhaka alone, CHRF is initiating collaborations with different universities in Bangladesh, starting with University of Chittagong. To help establish a sequencing lab, CHRF has provided a next-generation sequencing machine (iSeq100), and other equipment required for sequencing. This includes PCR cabinets to safely carry out experiments, and other devices to quantify genetic material. CHRF is very grateful to FIND, The Global Alliance for Diagnostics, who supported this pilot and made this collaboration possible.
The inauguration ceremony for the ''Next-Generation sequencing, Research and Innovation lab, CU (NRICh)" in the Genetic Engineering and Biotechnology Department took place on 23 May 2022 at 11 AM. Professor Dr. Shireen Akhter, Honourable Vice Chancellor, University of Chittagong was the chief guest. As special guests, Professor Benu Kumar Dey, Honourable Pro-Vice Chancellor (Academic), University of Chittagong was present among others. Dr. Senjuti Saha, CHRF's Director and Scientist, was present at the ceremony along with Dr. Sultana Aflatun Rubana, Program Research Manager, and other CHRF members.
CHRF and University of Chittagong also signed a Memorandum of Understanding (MoU) where the two institutions agree to exchange knowledge on capacity building.
CHRF will support the sequencing and training of the students for one full year and hopes to build a sustainable collaboration. This is just the beginning. We will keep working towards building capacity and decentralizing genomic research.
In Bangladesh, with Bangladesh, for Bangladesh.
Read more from news articles covering the event in the Daily Star and Prothom Alo.