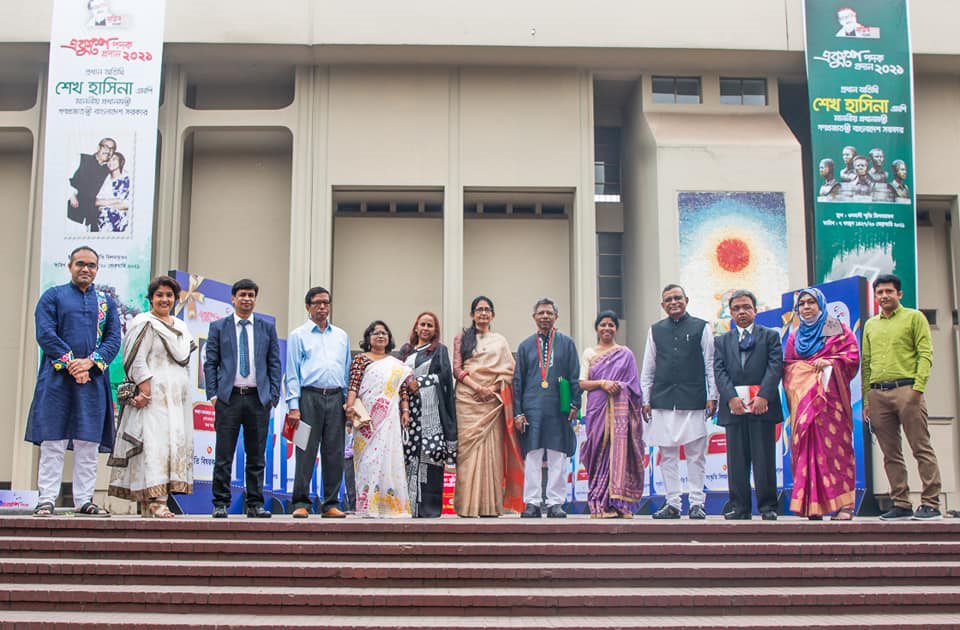 And the February of 2021 was a monumental one for CHRF. Our Founder and Executive Director, Professor Samir Kumar Saha, was awarded the second highest civilian award, the Ekushey Padak for his contributions to research. Professor Samir Saha said after receiving the award:
"I'm thankful for my struggles because without it, I wouldn't have stumbled across my strength and motivation. It is a true honor and privilege for me to receive the Ekushey Padak, as this award acknowledges me and my team's work to a great extent."
We take great pride in this accomplishment and continue to be inspired by Professor Samir Saha's patriotism and perseverance.
After 2020, we went into 2021 still fighting the war with SARS-CoV-2. This time, CHRF started the year off with a Nextstrain build exclusively for Bangladesh. The purpose of this build was to ensure open access for anyone interested to see which variants and variants of concern are circulating in Bangladesh, and was made public in January 2021:
https://nextstrain.org/community/CHRF-Genomics/ncovBangladesh@main
CHRF also continued its science communication efforts to ensure a reliable and scientific public source for queries related to SARS-CoV-2, with a short YouTube series named, 'SARS-CoV-2 Updates in 2 Minutes'.
The year 2021 was also met with the devastating second wave of COVID19 in Bangladesh, and the CHRF staff wanted to help those affected most by the pandemic. During the second wave and a nationwide lockdown, the CHRF family gave up their Bengali New Year allowance to help COVID19 patients in need. From our Executive Director to our porters, everybody donated. With the money raised, 20 oxygen cylinders were donated to a local oxygen bank named Shangjog | Connecting People. A donation drive was also arranged where a week's worth of groceries were distributed to 100 people whose livelihoods had been severely affected by the lockdown.
We also celebrated the successful rollout of the COVID19 vaccine for our healthcare providers. They were all smiles while getting their shots!