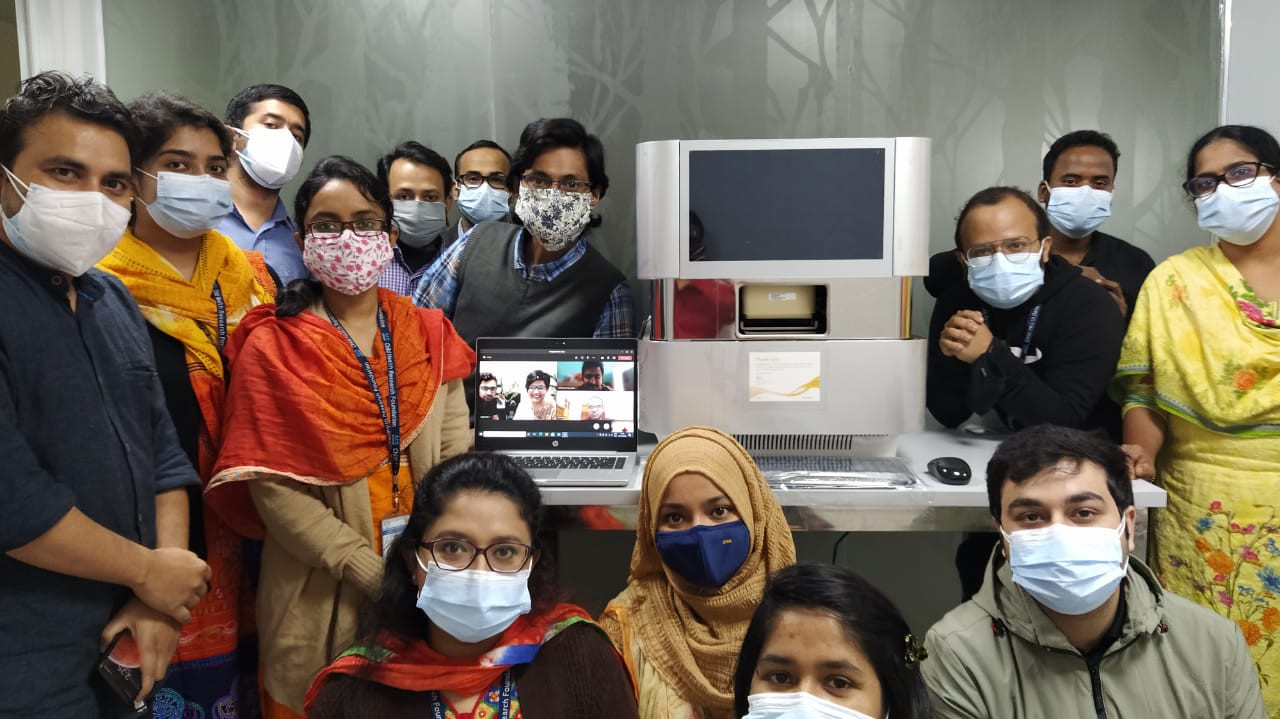 The year 2020 was a big one for CHRF – much like the rest of the world. It started off with Bill Gates recognizing two of CHRF's key members, Founder and Executive Director, Professor Samir Saha, and Scientist and Director, Dr. Senjuti Saha, as, "Gates Heroes in the Field". On the 14th of January 2020, Gates Notes uploaded a documentary on the work done at CHRF, which they briefly described as:
"Drs. Samir and Senjuti Saha in Bangladesh are a dynamic duo of global health. The father-daughter team is working to close the gap in healthcare delivery between low-income countries, where child mortality is high, and wealthier countries, by using data and state-of-the-art diagnostics to battle infectious diseases."
By March, CHRF's existing work, with diagnostics and genomic sequencing, proved to be essential tools to fight a new war. The war with a pandemic, and a virus called SARS-CoV-2. When the first case of COVID19 was detected in Bangladesh on the 8th of March 2020, CHRF staff were on their way to Kumudini to celebrate International Women's Day. Hearing the news, everyone was sent to work from home and discussions about how CHRF could help the country started taking place. At the time, the only COVID19 testing laboratory IN Bangladesh was IEDCR. Soon after, CHRF received permission from the government as the first non-government laboratory to conduct RT-PCR tests for COVID19 diagnostic testing. In April 2020, CHRF received a grant from the Bill & Melinda Gates Foundation to study the "epidemiology of COVID19 in Bangladesh". The CHRF lab team worked day and night – testing by day, and sequencing by night.
Why was sequencing important? Because we need local data to be incorporated into vaccine design and policy decisions - which hasn't been the case historically. We also need genomic surveillance to detect the circulating variants in our communities and make evidence-based policy decisions. On the 11th of May 2020, CHRF was the first to sequence SARS-CoV-2 in Bangladesh and upload to the Global Initiative on Sharing Avian Influenza Data (GISAID) database for the global community. This news was met with immense recognition and support from the public, which we are very grateful for!
During our fight with the pandemic, multiple CHRF members tested positive, and every one of them came back to lab even stronger! As cases started rising, the public had various questions about the virus, and to ensure a reliable and scientific source for answers to their questions, CHRF's Scientist and Director, Dr. Senjuti Saha, started a short YouTube video series where she discussed the latest research and updates regarding SARS-CoV-2.
We also did not forget about other pathogens while fighting with COVID19. In July 2020, CHRF's Director and Scientist, Dr. Senjuti Saha, was appointed to serve on the Polio Transition Independent Monitoring Board (TIMB), created by the Global Polio Eradication Initiative to monitor and guide the process of polio transition planning in countries around the world. This was a huge accomplishment for CHRF and Bangladesh as this was the first time a Bangladeshi had been appointed in this position! Dr. Saha strives to do her best to bring Bangladesh's and other LMIC's perspectives to the table.
And in December 2020, Dr. Senjuti Saha was invited to speak at the Grand Challenges Annual Meeting, arranged by the Bill and Melinda Gates foundation. For the last 15 years, this event has fostered international innovation and collaborations to address the biggest challenges in health and development. In the 2020 meeting, a spotlight was shone on the work done by Dr. Senjuti Saha, the Child Health Research Foundation, and all of Bangladesh. Her talk was on "Women and Girls - At the Center of Development and Innovation" and it was titled:
"From the Frontlines to Labs to Boardrooms: Women & Girls at the Center of Global Health & Development Innovation".
Dr. Senjuti Saha highlighted how groups in Bangladesh have been able to rapidly detect, characterize and contribute to the expansion of data-sharing and testing for COVID-19 in Bangladesh. She discussed how CHRF leveraged experience from the previous chikungunya and Dengue outbreak, to adapt the laboratory's capacity in light of the pandemic. Dr. Saha went on to describe how work done by women in Bangladesh are inspiring young girls to want to become scientists and researchers.
And the year ended with CHRF receiving the biggest sequencing machine for the first time in Bangladesh – the NextSeq2000, on the 22nd of December 2020. We started with the global sequencer, "iSeq100" in 2018, and graduated to a bigger and better sequencing machine, thanks to Illumina, Bill and Melinda Gates Foundation and our friends around the globe.
Why is this machine so important to us? Historically, low- and middle-income countries like Bangladesh would have to send their samples to rich, developed countries for sequencing due to constrains in resources and capacity. While we do the hard work of implementing the projects, collecting the samples, it is often the scientists of the rich countries who get the credit for sequencing. At CHRF, we want to break that vicious cycle. We want to build capacity so that we can do our own sequencing, be the owners of our data, and serve Bangladesh. We want to be independent and show the world that we are self-sufficient. In Bangladesh, with Bangladesh, for Bangladesh.
This new state-of-the-art sequencing machine takes us another step forward to fulfilling this dream. With this machine, we hope to sequence the most important pathogens that cause disease. Using sequencing data, we want to track bacteria and viruses circulating in Bangladesh, learn about them, and fight them. And with this vision, we look forward to the year 2021.