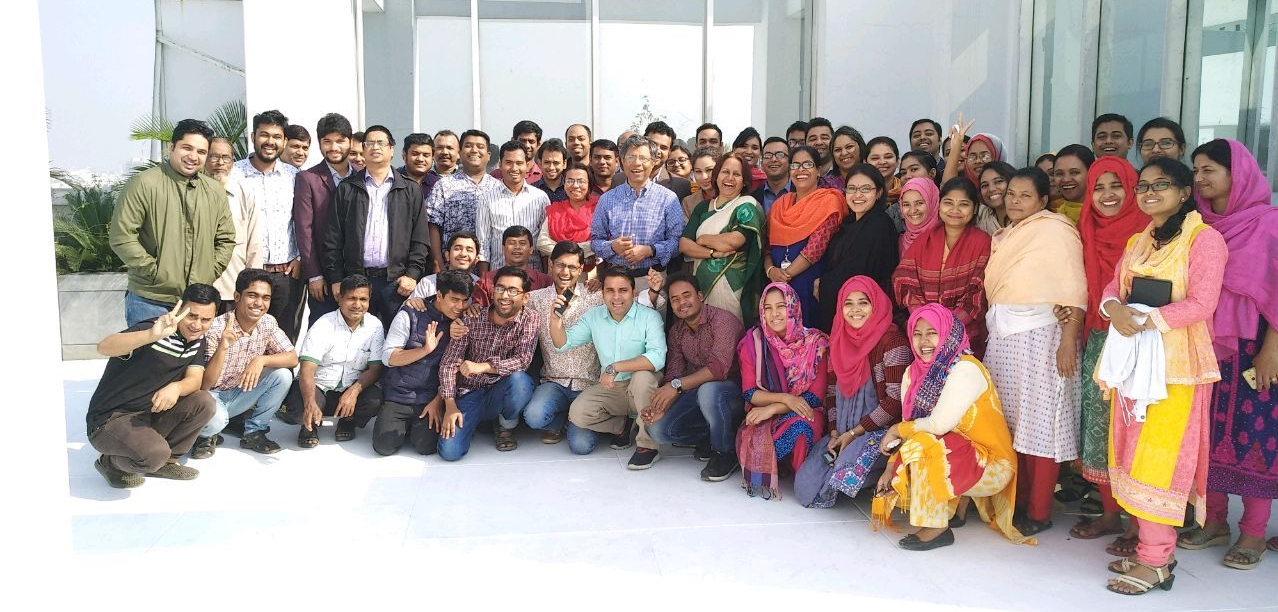 It's February of 2019 and we are just publishing our Highlights of 2018 – yes we are a little late to the party, but January 2019 kept us busy! Last month, we got our own IIlumina sequencer, an automated extraction machine (our second robot!) in addition to so much other new lab equipment and goodies – but wait that's all for Highlights of 2019. Let's not digress.
2018 started off with a blast, keeping up the tradition of January blasts in CHRF. Our executive director, Dr. Samir Saha, was elected to Fellowship in the American Academy of Microbiology. Earlier this year he was also was also elected to become a member of the ISPPD board – joining the global pneumococcal leaders of our time. He also delivered a key note speech on antimicrobial resistance before the German Health Ministry and the list goes on…. But for this post, as last year, we will zoom in on the young scientists of CHRF.
Nine of our scientists were invited to present 11 abstracts at ISPPD-11 in Melbourne in April, with travel grants from the Bill and Melinda Gates Foundation. And right before joining the meeting, Dr. Senjuti spent two weeks at the Chan-Zuckerberg Biohub in San Francisco figuring out what causes meningitis in children in Bangladesh using the metagenomics. The success of the project was covered by The Daily Star also published a note-worthy
Did you know Chikungunya caused a meningitis outbreak in Bangladesh in 2017?
The success of this project was followed up by a grant to attain our own sequencer (iSeq) to do our own sequencing in our brand new laboratory, at real time.
We are all very proud of Shahidul Islam, an old and trusted member of CHRF, who just started his PhD in collaboration with CHRF and University of Edinburgh. His thesis focuses on long-term impact of respiratory syncytial virus (RSV) infections in children – and that brings us to arguably the most exciting new of the year – the ANISA paper in the Lancet – which showed that RSV is the primary cause of infection and illness in newborns.
If you want to know more – read "Bangladesh leads the world one step closer to understanding causes of deaths in newborns" and here is the original paper. With 84,971 pregnant mothers and 63,114 babies, ANISA was the first of its kind- it showed that a bacterium called Ureaplasma is the leading cause of death due to infection in babies, and that RSV causes the greatest number of illnesses. The study also talks about the best choice of antibiotics in newborns; only small proportion of the suspected infections appear to be infections at all!
Our other PhD student, Tanmoy, is gearing up to be Dr. Tanmoy! He has already published his first PhD paper in mBio, where the authors analyzed the genomes of >400 Salmonella Typhi strains isolated by our group.
Zabed and Naziat, in the midst of their crazy lab work, have been squeezing in trips to Lucknow and Pune working with our collaborators there and spreading the expertise of pneumococcal detection and serotyping. Want to learn how to lean on a microscope and serotype pneumococcus perfectly for hours using capsular swelling reactions? Naziat is your friend. Naziat also published her first first author paper (causes of otitis media in Bangladeshi children) this year!
Popy and Hasan went to St. Paul, Minnesota, to brush up their qPCR techniques for bacterial meningitis identification, guided by the CDC, USA. Popy went back with Hafiz soon after, this time to Atlanta, Georgia, to polish their microbiology techniques on pathogen identification. This was hosted by the CDC and Association of Public Health Labs, USA.
Senjuti was also in Atlanta, however at a different time, to present CHRF's work on meningitis at the American Society of Microbiology as a Gates Fellow from Low- and Middle Income Countries.
In addition to going places, CHRF members also "brought places" to Dhaka by organizing the second global meeting of RESPIRE, NIHR Global Health Research Unit on Respiratory Health at The University of Edinburgh, where the experts representing seven countries in Europe, Australia, and Asia shared their ideas to tackle respiratory illnesses in the south and south-east Asian countries. Additionally, a policy dialog on respiratory health was arranged to discuss the current respiratory health problems in Bangladesh.