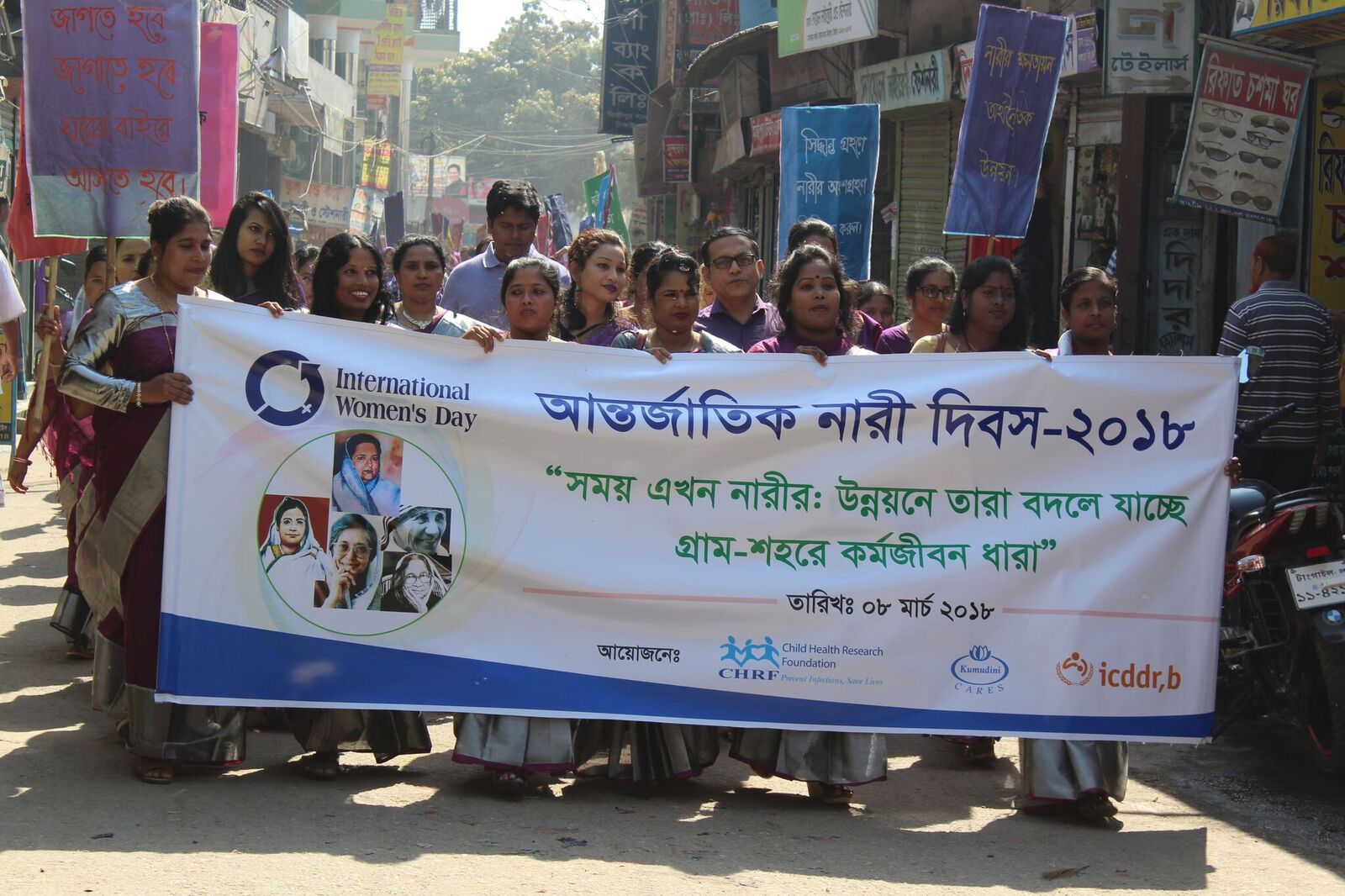 Every year March 8th marks International Women's Day celebrating the progress of gender equality and women empowerment. On this day everywhere around the world, women organizations and global movements come together to stand as a united force, reminding us to fight for strong courageous women who are pushing us toward a more equal future.
This year CHRF teamed with Kumudini Women's Medical College and Hospital and organized a special public event to bring together women who are committed to change society and break the shackles of boundaries set by patriarchy. The program was graced by guest of honor Ms. Pratibha Mutsuddi, Bangladeshi academic and language activist and former director and principal of Kumudini Welfare Trust. She was joined by Dr. Dulal Chandra Podder present director of the hospital and Dr. Samir Saha, Executive Director of CHRF.
Over 100 community health workers joined women's rally and marched with pride displaying their handmade placards inspiring feminism and empowerment. All the men staff members from the laboratory and hospital also participated in the march as support to women's movement. The auspicious day was marked by the release of white doves signifying peace among all. Every village health workers working for CHRF took part in the rally, some gave inspirational speeches and participated in the cultural program. At the discussion forum women shared their journey of breaking cultural norms and making their way to access education and find a living on their own. The women working for the health community have contributed exceptionally by not just following their career duties and responsibilities but also motivating young girls and women around them to take a stand and fight for gender equity.
The cultural program arranged by the health workers and their families was a touching end to the ocassion. Short plays on women liberation, recitation, classical dance performances and an open art competition concluded the day on a memorable note.
The ambiance was very energized leaving everyone influenced and motivated. We are so proud of all these women making a difference in our society, it really is time to lend strong hands to the women of rural Bangladesh and make their voices heard.