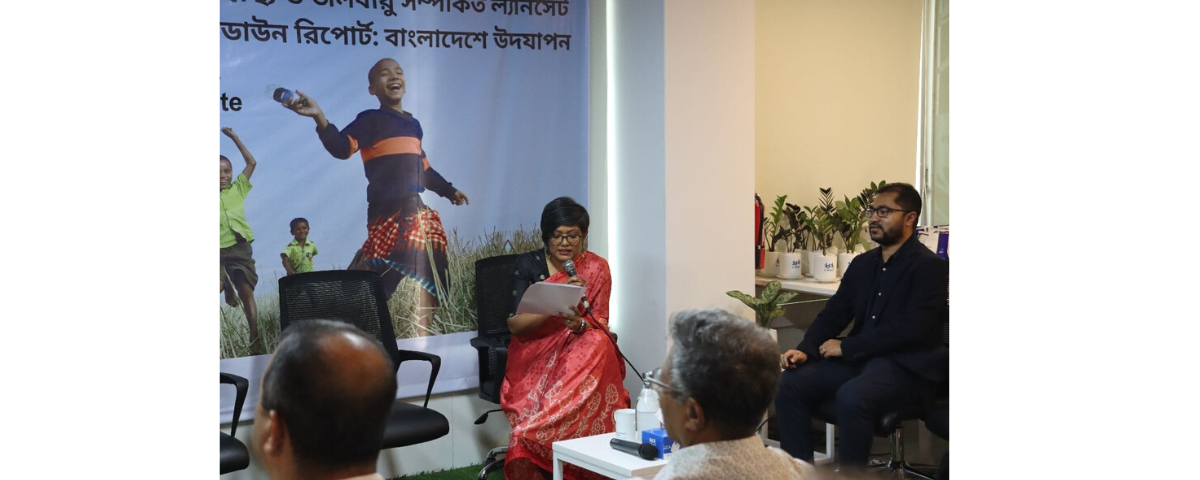 Climate change is threatening the health of people in Bangladesh. It is no longer a future problem; it is a problem of now. To present this problem with data and create a platform for discussion with leading experts, the first in-person Bangladesh launch of the 2022 report of the Lancet Countdown on Health and Climate Change took place on Thursday, 22 December 2022 at 3 pm at the Child Health Research Foundation (CHRF) Headquarters in Shyamoli.
The event provided an opportunity to acknowledge and examine the impacts climate change has had on Bangladesh across timeframes covering the past, present, and future. The imminent and necessary steps towards alleviating some of the predicaments were also discussed.
As chief guest, Mr. Saber Hossain Chowdhury, MP 28th President, Inter-Parliamentary Union Chairman, Parliamentary Committee on Ministry of Environment, Forest, and Climate Change, Government of Bangladesh was present. As special guest, Professor Saleemul Huq, Director, International Centre for Climate Change and Development (ICCCAD).
The keynote speakers were Dr. Shouro Dasgupta, Environmental Economist, Fondazione CMCC and GRI, LSE and Professor Elizabeth Robinson, Director, The Grantham Research Institute WGI Lead, The Lancet Countdown.
The panelists at the event included Prof. Dr. Ainun Nishat, BRAC University, BU Centre for Climate Change and Environmental Research (C3ER), Mr. Yasir Azman, Chief Executive Officer (CEO) of Grameenphone and Dr. Md. Tajuddin Sikder, Associate Professor, Department of Public Health and Informatics, Jahangirnagar University. Dr. Senjuti Saha, Director & Scientist of Child Health Research Foundation was the host and the moderator of the event.
During the event, findings of the 2022 Lancet Countdown Report in the context of Bangladesh were highlighted. The event brought together leading academics and policymakers with wide-ranging experience and expertise. This year's report represented the work of 99 researchers from 51 institutions in every continent.
Also present in the event were representatives from UNDP, Ministry of Health, CDC, DGHS, WHO, BSHI, BRAC University, SSL Wireless, East West University, The University of Queensland, YPF, English Olympiad, Bangladesh Water Partnership, Save Future Bangladesh and many more.